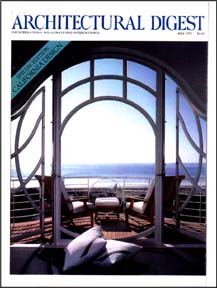 WEST COAST DECORATIVE PAINTERS
Traditional Disciplines Applied with Contemporary Spirit

By Hunter Drohojowska
© Architectural Digest, May 1991
In the rarefied world of contemporary art, the notion of the "decorative" often meets with disdain. Yet before the modern era, decoration was considered one of the primary functions of painting. Embracing rather than rejecting the styles and skills of the past, a handful of artists in California have returned to decorative painting. They have mastered Renaissance realism, trompe-l'oeil illusion and Japanese naturalism while forging their own individual styles.

Japanese and Chinese arts have historically celebrated decoration, and the influence of the Far East is evident in the work of three of these painters. Wayne SMyth says his attraction to Japanese art stems from that culture's appreciation for harmony with nature. "The

ABOVE: Robert Crowder of Los Angeles lived in Japan for many years and studied with the painting master Mochizuki Shunko. He has worked in the Oriental style for almost 50 years. Photo by Yasumasa Tanano
Japanese have the ability to improve on nature," he notes. "'More beautiful than true,' as they would say."
Smyth worked as an art director before turning to painting. Then in 1979 he was asked to do a pair of screens depicting a Japanese emperor and empress for Linda Ronstadts's
house in Malibu. They proved a success, and he started working in a Japanese style on screens built by his partner, George Lazoraitis. Smyth points out that in Japan the maker of screens, the hyogushi, is as respected as the painter.
| | |
| --- | --- |
| ABOVE: Wayne Smyth's delicate composition in the Edo-period style is executed on a four-panel screen made with traditional Japanese methods by his partner, George Lazoraitis. | Lazoraitis builds each screen's framework from tempered alder wood, covers it with seven layers of mulberry paper, finishes the front with gold or silver leaf or silk, and after the image is completed, adds a border of antique Japanese Brocade and a black-laquered frame. The two artists, who live in Los Angeles, operate under the name Byobu West -- from the Japanese word for screen. |
Smyth is inspired by Edo-period art, and his screens feature scenes such as cranes in flight or evening rains. The effect is Japanese but scaled to meet the requirements of a Western interior. "We give the client a traditional subject but in untradtional sizes," explains Smyth.

Robert Crowder, also in Los Angeles, has been painting in the style of the Far East since the mid-1940s. Before the Second World War, Crowder was teaching English and music in Tokyo. While there, he studied painting with the Japanese master Mochizuki Shunko.

ABOVE: Best known for her playful adaptations of the traditional Japanese tansu, Karen Kariya uses her accomplished trompe-l'oeil technique to create the illusion of iron hardware and shelves, to which she often adds a variety of the client's personal possessions.


Since his return to this country after the war, he has dedicated himself to painting, and his command of the Japanese style is convincing: He was commissioned by Mitsui to decorated the Japanese Pavilion at EPCOT Center in Florida.
The Japanese aesthetic is understated and humorous in the work of Karen Kariya. A third-generation Japanese American, she counts nineteenth-century American trompe-l'oeil artists Milliam Michael Harnett and John Frederick Peto as important influences. She is best known for her trompe-l'oeil tansu -- chests with touch-latch doors and clever illusions of shelves and iron hardware. For commissioned works, Kariya will personalize her pieces by using the owner's name in the titles of books she has depicted on the shelves. This sort of coded symbolism is in keeping with the tradition of trompe-l'oeil.
---