ABOUT THE ARTIST
Some Measure Days by Dreams,
And Some, by Flowers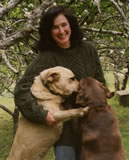 Pamela and her dogs in Mendocino, California, 1993
Pamela Silin-Palmer started creating art when she was a child. For Pamela, nature is the source of all design and beauty.
"I look at relationships between objects, light and shadow and am inspired to play games with that visual information. I am enabled by a photographic memory, so I can visualize my paintings before they are painted. I mix images and effects in my mind and then paint them as I imagine them."
- Pamela Silin-Palmer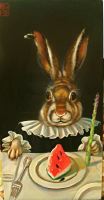 Harry Does Lunch © 08 Pamela Silin- Palmer
While living in the South of France in the 70's, she had many opportunities to visit Italy... where she, like many artists before and since, had the stunning experience of discovering Florence: Pamela, like most people, was entranced by the artists of the Italian Renaissance. It was there that she realized everything man-made, whether decorative or utilitarian, could be an art form, that decorative art was just as important to the overall quality of life as fine art. Pamela was also influenced by the overall pattern and flat perspectives of late medieval mille-fleur French Tapestry; the similar style of patterning found in Persian and Indian art; the 17th century Dutch still-life painters, who focused on the intricate details of insects, flowers and animals emerging from a dark background; She admires very much the wit and magic of the 19th century English illustrators, such as Sir John Tenniel [e.g. Alice in Wonderland] and Arthur Rackham, and foremost, the great Pre-Raphaelite designer and decorative artist/illustrator, William Morris.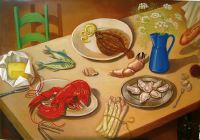 Still life with unexpected guest © Pamela Silin Palmer 09
Pamela believes that her work, as a transmitter of visual energy, communicates not only her respect for these painters and styles, but that she is a product of her own time and reality... the games she likes to play are certainly from a present perspective.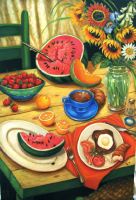 Breakfast with Blue teacup © Pamela Silin Palmer 09
Pamela founded the Faunus Studio of Decorative Art with partner, Karen Kariya, in 1976. Their one-of-a-kind painted furniture, murals, ceramic ware, backdrops, rugs and fabrics have been represented by the top designer showroom/galleries throughout the past 30 years in almost every major city in the United States.
[see Faunus Fantasy Furniture for further details]
For the retail market, Pamela designed a signature line of fantasy furniture for twenty eight national high-end Neiman-Marcus stores, and her painted renaissance chest was a featured product in their famous Christmas catalogue. She has created hand-made Renaissance animal dolls for two consecutive Christmas displays for Bergdorf-Goodman, 5th Avenue. in 1996 and 1997 with a partner, Nancy Sandberg [See: Dolls/ [c]Silin and Sandberg [c] '93- '97] This fantastic line was sold through the select designer showroom, Kneedler Fauchere in Beverley Hills, and Amen Wardy Boutiques in Aspen, Colorado and Las Vegas.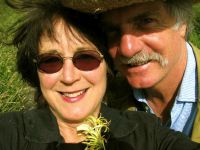 Pamela and Patrick Palmer
Pamela's vast and exciting Client List of private, international and corporate collectors can be viewed on this website.
Pamela has illustrated three picture books for Random House: Bunny and the Beast, written by Molly Coxe, 2001; and Sleeping Bunny, written by Emily Snowell Keller, 2003; and Unicorn Wings, 2006, one of the Easy Reading Random House series written by Mallory Loehr.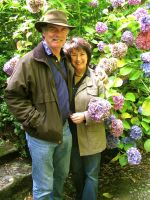 Pamela and Patrick Palmer, Ireland 09
In 2003, Leanin Tree, the great Western American card company, Boulder, Colorado, released fifty greeting cards featuring images from Pamelas book illustrations, and other magical images under Pamelas trademark brand, Rabbits of the Rainbow.
Pamela was also one of a small group of signature artists and trademarked paper product designers...including giftbags, wrapping paper, notebooks, stationery, and greeting cards.... for Sunrise Greetings, now a part of the Hallmark Line [from 1993 to 2003], which were sold in over 55,000 stores nationwide.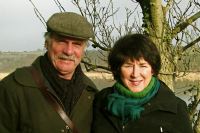 Pamela and Patrcik Palmer, Co. Waterford, Ireland, 2010
She licensed and designed many other divers products for many different companies, including puzzles, wallpaper, ceramics, stamps, room decor and Christmas decoration while represented by Interart Licensing, a division of Sunrise.
Pamela lived in Northern California for many years with her husband and business partner, Irish artist and designer, Patrick Palmer. They have four grown daughters and some beautiful grandchildren! Pamela and Patrick are now painting in the beautiful Irish countryside; She lives in a lovely old cottage in County Waterford with their little dog, Beamer, and they have both exhibited their new work in galleries around the country over the past five years. Pamela's recent paintings can be viewed online.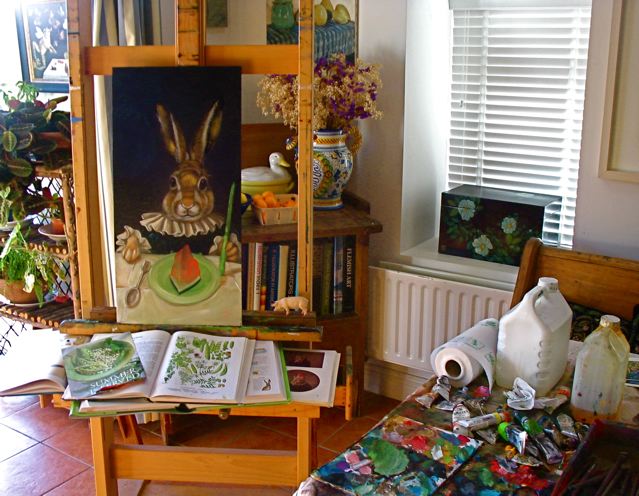 In the Studio...Harry Does Lunch © Pamela Silin Palmer


more paintings at www.palmer-studios.com
client list
articles
notes from the studio